ROC Commerce 9.1: Connect with Your Customers in Every Channel
ROC commerce is pleased to announce the release of ROC 9.1. We continue to deliver a product that helps sellers reach their market and maximize their revenue. This new version assists you in reaching your buyers at every step of the purchase decision. In the launch of ROC Commerce 9.1, we continue to extend our integration-first architecture to assist our customers in reaching their market through every channel at every step in the decision process.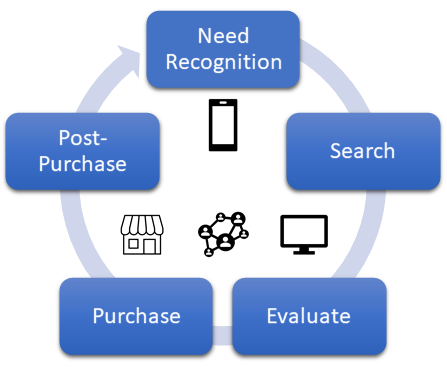 Search

Customers often begin their product search on the web where ROC excels at meeting traditional and new Core Metric standards for SEO. ROC integrates with Hawksearch to provide an exceptional search and shopping experience. Hawksearch empowers markets with boost/bury rules, pinning, audience segmentation, and personalized recommendations

ROC – Real Omnichannel Commerce – also offers a unified experience to customers who find your product on the web and visit your store or talk with a salesperson to complete their purchase.

Evaluate

ROC Commerce 9.0 gives the buyer and seller multiple tools to help customers find and evaluate the products they need. Sellers can create configurable product relationships that guide customers through the catalog. Machine Learning tools help sellers personalize recommendations. Customer segments let sellers target audiences with the most effective messaging. The product comparator lets customers compare products side by side.

Purchase

Friction during checkout frustrates your customers, lowering your conversion rates and revenue. ROC helps reduce friction with support for guest checkout, registration/login through social media platforms and 3rd party IAPs, and integration to Avalara, UPS, FedEx, and others so customers are never surprised by costs. Support for ApplePay is coming soon, further reducing friction.

Version 9 also supports multiple shopping carts and shopping lists, allowing customers to manage purchases for more than one initiative at a time.

Because mobile traffic accounts for an increasing portion of sales and is more sensitive to site performance, ROC emphasizes speed, consistently getting the highest scores on Google Lighthouse.

Post-Purchase

Servicing your clients after purchase is critical to your long-term success. ROC Commerce 9.0 extends our built-in email notifications with event-driven integrations to new CRM's, ERP's, OMS's, and marketing automation platforms. It also includes support for customer Segments so sellers can give a differentiated experience to every audience.

Conclusion

ROC Commerce 9.0 is the best platform for converting prospective customers into buyers with out-of-the-box features that streamline the purchase funnel, empower marketing departments, and integrate to all your existing systems for a unified experience. ROC Commerce 9.0 is easily tailored to meet your needs and the needs of your customer in every industry.

ROC Commerce's consistency of ownership and management is nearly unparalleled among ecommerce platforms giving us a consistency of vision that competitors cannot match. We partner systems integrators like Americaneagle.com to provide companies around the world with market-leading integration, service, and support.

ROC Commerce adds new features every quarter to help B2B and B2C sellers connect with customers and drive revenue growth through all channels. To learn more about how our product and partners can help you, contact us.