Beretta USA Increases Orders and Conversions with Successful Design and Digital Marketing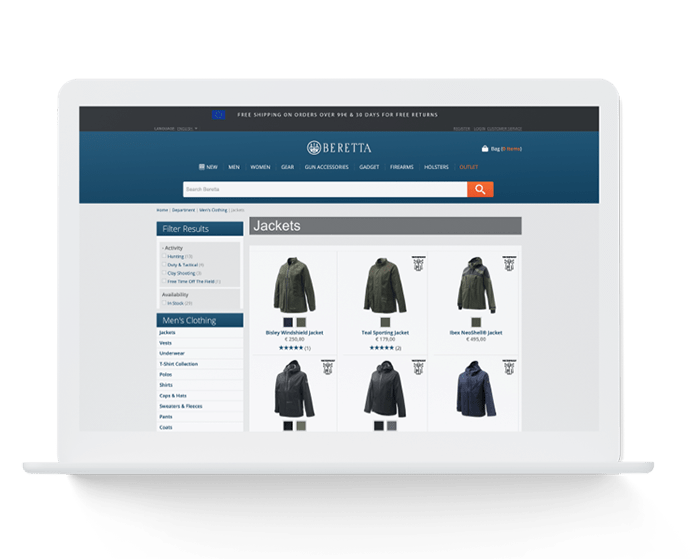 Beretta, founded in the 1500s, has been supplying firearms to the Armed Forces and Police Corps of Italy and numerous other countries for many years. In the early 1990s Beretta added a complete line of hunting apparel and accessories.
Beretta came to Americaneagle.com for the redesign, development and hosting of their US ecommerce website, BerettaUSA.com. The goal was to increase online conversions by making it easier for visitors to find and purchase items.
Challenges
As a premiere, global manufacturer of firearms and hunting lifestyle products, Beretta needed to run multiple sites in seven languages, deter fraudulent charges, and ensure compliance with all regulations regarding firearm sales.
The sites need to perform well around the world, be compliant with ADA, CCPA, and GPDR regulations, and offer sales of virtual products such as firearm training and events
Solution
Americaneagle.com created a custom design that aligns with the Beretta brand. The implementation of ROC (formerly iDev) enables Beretta USA to focus on continuous revenue generation through well-crafted navigation, search functionality, purchasing paths, and merchandising tactics. BerettaUSA.com was built to accommodate new features and functionality that can be easily added as the online store grows.
Integration with Beretta's in-house system streamlines backend business operations and ensures legal compliance with national, state, and city ordinances. Beretta uses ROC's multi-site and multi-lingual support to share content and features across sites and integrates with Akamai's CDN for global content distribution.
The solution integrates with Wolters-Kluwer SureTax® and is ADA, GDPR, and CCPA compliant. Americaneagle.com implemented transaction fraud monitoring to protect Beretta and its customers.
Call center operators use the new website to place orders for customers and look up information in one centralized location.
BerettaUSA.com was recognized with a Gold award in the 2014 W3 Awards, an awards programs that honors creative excellence on the Web.
In the first three months after launch, Beretta USA saw a 43% increase in online revenue, and a 31% increase in average order value. Annual online revenue has increased by 341%.

Results
341%

Increase in Online Revenue

35%

Average Email Open Rates

31%

Increase in Average Order Value

90%

Reduction in fraudulent transactions
---
Share