 Leading Gutter Tool Manufacturer Now Sells Direct Via Online Store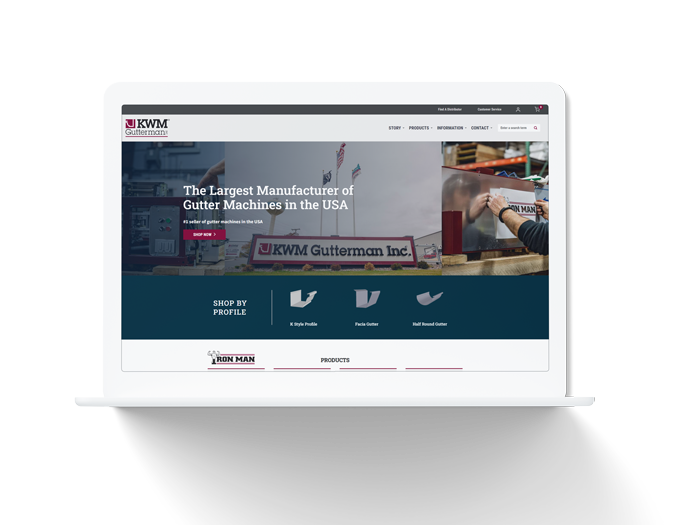 KWM Gutterman is the largest manufacturer and number one seller of gutter machines in the USA. For more than 50 years, installers have depended upon this family-owned business for gutter machines, roll-forming products, and services.
Challenges
KWM Gutterman had, for a number of years, relied upon various distributors' online stores to forward gutter machine orders that were requested via their websites. Each distributor tended to display, list, and sell machines, as well as their customizations and accessories, in differing ways. Inconsistencies in those orders had become a challenge. Order accuracy, as well as delivery of exactly the machines that installers intended to buy, was less than optimal.

To advance the customers' digital experience to more closely parallel their world-renowned gutter machines, KWM Gutterman decided it was time to create its own online store. A dependable ecommerce solution from their own branded website would promote order and fulfillment success for valued installers. With the influx of installer traffic to be directed to kwmgutterman.com to place machine orders, they also wanted to share their proud brand history and quality assurance with their customers.
Solution
KWM Gutterman selected digital agency, Americaneagle.com, to partner in this ambitious new ecommerce venture. In the digital agency, KWM Gutterman recognized a brand story similar to their own, led by innovation, family, and hard work. The digital agency's specific experience with manufacturers, like WeatherTech, affirmed their confidence that this was the right relationship to deliver on all expectations for KWM Gutterman's new website and ecommerce experience.

ROC Commerce was chosen as the platform on which the site would be built. The platform's integration flexibility was the primary factor in that decision. In the end, ROC Commerce's advanced search functionality, site speed performance, and overall affordability also confirmed the platform was an excellent choice.

Product visuals and representation were a leading priority for the website. For installers, these gutter-making machines are a critical asset for their business. They are also a big investment. To be assured the buyers are selecting exactly the machine that their installation business needs, detailed visual representations of the products are extremely important. Threekit was identified as a key integration component within the project. This 3D configurator platform was able to provide a custom product creation experience for the gutter machines. Accurate, high-resolution visuals now represent the machines and options throughout KWM Gutterman's online store. These impressively detailed, CAD-like visuals have greatly reduced returns and order errors.

Integration with leading tax compliance software, Avalara, ensures appropriate and documented tax considerations are an automated part of every checkout process. Advanced payment options are also made available to registered, logged-in customers.

The reduction of order errors has provided an immediate win for KWM Gutterman. They have significantly reduced returns and the need to invest more time reassembling the intended machine order configurations. Via the new ecommerce store from KWM Gutterman, satisfied customers are getting exactly what they need from the brand they trust.
Results
36%

Increase in Site Users (YoY)

16%

Improvement in Bounce Rate (YoY)
---
Share