ROC & SX.e Integration Enables B2C Experience with B2B Functionality for Reinders Customers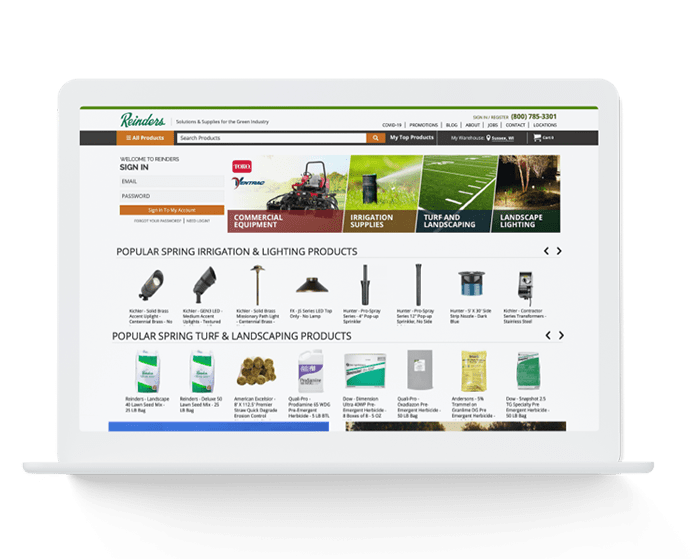 Reinders, Inc., a family-owned, regional distribution company headquartered in Sussex, Wisconsin, is one of the Midwest's largest full service distributors to the commercial green industry. Encompassing everything from golf irrigation to holiday lighting and commercial equipment, Reinders offers best-in-class, professional-grade products.
Challenges
Reinders was looking to improve their overall online shopping experience as it was proving to be difficult, took too much time, and wasn't personalized for website visitors. The existing website was outdated and needed to accurately convey the quality of their products and the fact that Reinders has local knowledge of national product lines. The offline and online order channels were not integrated, leading to inconsistencies with their inventory. Reinders was looking to increase their conversion rate on the website, and also implement a quality on-site search feature that would allow visitors to find what they were looking for quickly.
Solution
Americaneagle.com built a new site for Reinders on the ROC Commerce platform and integrated with Infor SX.e which runs on the Progress OpenEdge platform. The integration between ROC and Infor SX.e has brought consistency across Reinders' offline and online order channels.
This integration has enabled Reinders to offer its customers an online experience more often associated with B2C sites, with B2B functionality. The integration allows customers to schedule pick-up at the Reinders location nearest them or have products shipped directly to them. Customers can view products without logging in, there is a guest checkout and a one-page checkout process which works flawlessly on mobile devices.
The new site is personalized to offer B2B and B2C customers the optimum site experience, driven by the tight integration with SX.e. Customers can log in to see personalized pricing, payment options and shipping options based on their organization accounts with SX.e. Further personalization relates to a customer portal, where Reinders customers can view their order history online, including orders made over the phone, by coworkers, and via other non-web based methods. The customer portal also contains a summary of account balances as well as open and past invoices. Enhanced product information such as detailed specs, videos from manufacturers, and PDFs are also available on the new site.
---
Share