New Website Welcomes Shoppers to Dip Their Toes in the Salt Life from Anywhere!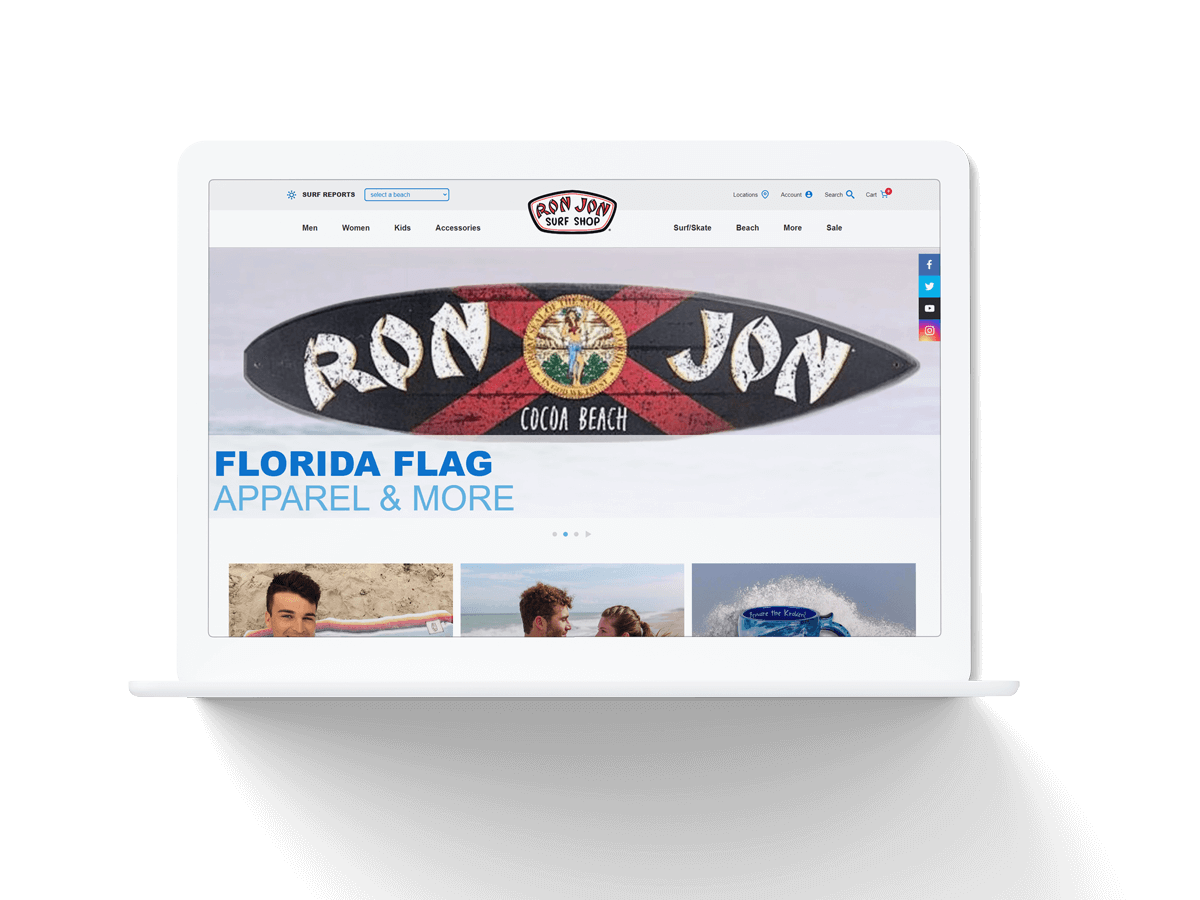 Ron Jon Surf Shop is known for selling the active lifestyle of beach and surf to visitors from around the world. The business was founded in 1959 on the New Jersey shore. Today, Ron Jon Surf Shop has grown into a world-famous surf culture destination at 13 brick-and-mortar locations, as well as online ecommerce.
Challenges
The ecommerce solutions at ronjonsurfshop.com had outgrown their original digital platform. The online store had become bloated with poorly optimized images and an overgrown number of navigation selections. The website was not mobile-friendly. On both desktop and mobile, the speed and performance scores had fallen to a level that was greatly hindering the site's usability. Checkout at the online store was clumsy and required far too many steps.
Solution
Ron Jon Surf Shop engaged Americaneagle.com, a digital agency, to lead a reimagined, forward-thinking ecommerce experience that would advance the business's website to a place that reflected the very best customer experience that is found in their physical store locations.

The versatile and high-performing ecommerce platform chosen for the project was ROC Commerce. The impressive site speed within ROC Commerce is an important asset to Ron Jon Surf Shop's new customer-focused ecommerce web solution. Prior to the new site's launch, Google PageSpeed Insight scores were lingering in the thirties to forties. At launch, the new site registered an impressive 98 out of 100 for desktop computer performance within Google PageSpeed Insights.

New site solutions and features are providing an improved customer experience. A more efficient checkout, which minimizes necessary steps in the process, is quickly leading customers through their online purchases with more success. Payment options now also include the ability to split tender types between multiple payment source selections.
Seamless integration between the website and Saleslink, the enterprise resource planning (ERP) utilized throughout Ron Jon, has improved overall resource planning, product inventory, and forecasting. Another integration that has helped customer communication and targeted email marketing campaigns is the web site's connection with Send In Blue, Ron Jon's email campaign management system.
The new website is allowing users to dip their toes in the salt life, anywhere at any time, at
ronjonsurfshop.com
.
---
Share