Integrations and Product Configuration Tools Drive Success for TapeCase's Robust Digital Catalog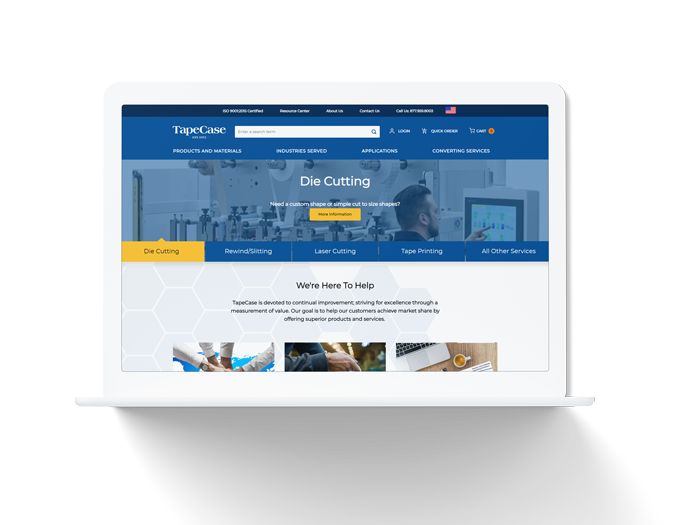 TapeCase designs, converts, manufactures and distributes highly-engineered adhesive tape products. They offer expansive tape converting services to provide a custom tape solution for nearly any application. Their services consist of laser cutting, die-cutting, tape printing, and more.
Challenges
TapeCase sought an agile ecommerce website solution that offered customers an intuitive shopping experience within a catalog of 35,000 products, custom configuration calculators to request product variations that were not regularly available in the business catalog, and the ability to apply customer-level tier pricing and shipping personalization. The optimal web solution would also integrate with their existing customer relationship management system, Salesforce, and their enterprise resource planner, Microsoft Dynamics GP.
Solution
For this ecommerce redevelopment, digital agency, Americaneagle.com, chose to deploy the ROC Commerce platform. The platform's feature set, extensibility, security, and speed were key considerations in choosing ROC commerce.

Site integrations with existing business systems were critical to success. Salesforce integration topped that list of integrations. Within the new ecommerce website environment, new users that are created within the site are directly shared with Salesforce. Online cost calculator quotes are also automatically directed to Salesforce for timely follow-up from TapeCase's sales team. Newsletter signups are immediately recorded as leads within Salesforce as well.

The business accounting and enterprise resource planning (ERP) software utilized by TapeCase is Microsoft Dynamics GP. With smart website integrations to this ERP system, TapeCase has been able to advance capabilities for timely reporting and business forecasting in the new environment.

With over 35,000 products within the TapeCase catalog, customers have appreciated the reimagined shopping environment. The table formatting utilized within the new product catalog allows each product variable to be quickly edited and intuitively displayed. Customer pricing tiers are persistent throughout the customer-specific shopping experience. Those profiles offer advanced customization as well, such as shipping preferences and account specifications.

Four custom calculators have quickly become a valuable new digital asset for TapeCase. The custom calculators for abrasive belts, custom short-length tape, custom cut shape tape, and custom tape roll widths, are all built with ROC Commerce. Responsive to particular customers' business needs, TapeCase is able to assign specific calculators to appropriate customers. All of the custom calculators communicate with Salesforce.

A clear advantage of TapeCase's ecommerce platform solution has been site speed. Prior to the launch of the redeveloped site, desktop performance within Google's Page Speed Insights was stuck at 47 out of a maximum score of 100. The Page Speed Insights score at launch was within the 90's, placing TapeCase among the leaders in ecommerce websites.
---
Share