Farm Supply Company Thrives After Product Data Optimizations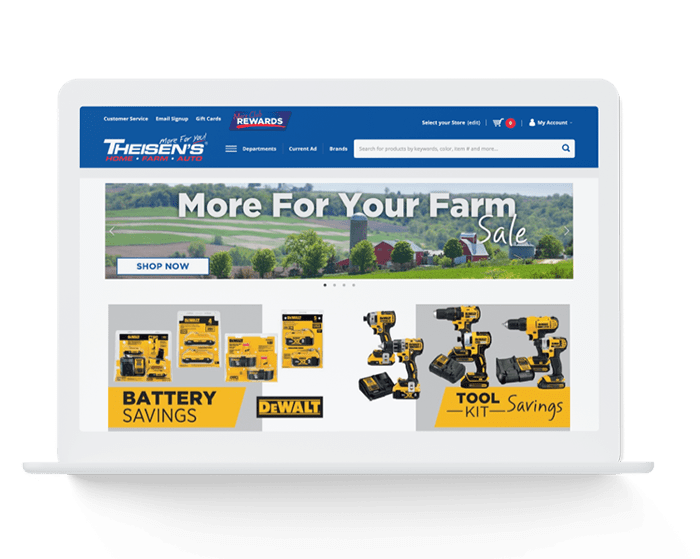 Theisen's is a regional retail chain that specializes in farm supplies, housewares, automotive goods, and apparel. The family owned company has been in business since 1927 and has over 20 brick-and-mortar stores across Iowa and Wisconsin.
Challenges
As Theisen's grew its ecommerce presence, the company struggled with inconsistent product data. Products weren't being categorized correctly and there were major disparities with the way they were being presented on the website. Search terms were also an issue and certain keywords often didn't direct users to the most relevant item. This all contributed to a poor user experience.
Solution
To alleviate some of these problems, Theisen's came to Americaneagle.com's digital marketing team for a better merchandising strategy. The team began by exporting all product data on the site. Simple items that required a parent-child relationships were identified and the team made adjustments to ensure proper attribute sets (size, color, etc.) were assigned to each product. New attribute sets were created where necessary to provide an easier way for users to navigate through different facets. To correct site search issues, the team used Hawksearch to create synonyms and redirects for categories and sub categories. Thanks to this, if a user entered a query that was similar to a term within the product listing, they would still get relevant results. The team also optimized listing pages to ensure the correct products were being displayed through visibility and bury rules.
After improving the product data and making it easier for users to find the items they need, Theisen's saw growth across nearly all metrics.
Results
41%

Increase in Revenue

53%

Increase in Transactions

10%

Increase in Ecommerce Conversion Rate
---
Share